If you want to stand out from your competition in this CROWDED space, you need to rethink your idea of branding – the secret sauce that can create bonds with prospective guests and locals, stand out with your listings, website, and social media; and turn ordinary stays into unforgettable memories so guests keep coming back for more!
Are you willing to devote time to creating a professional and memorable vacation rental brand? If you have one vacation rental property or manage dozens and are ready to bring your A-Game, you'll get massive value from the tips of this blog!
Creating A Memorable Vacation Rental Brand
As a website designer and consultant, I see so many businesses that have a logo and a brand name. And that is where their branding ends.
But, Vacation Rental Branding is much more than a name and logo. In fact, that's the last step you should take when you create a lasting professional brand.
Your brand is everything about who you are, the experience you create, your hospitality, your reputation, as well as your values as an owner. And your logo is a visual representation of those feelings and associations.
A Bit of History About Branding!
The term "branding" actually came from ranchers and herders, (I like to say it started back in Texas, but facts have proven me wrong – it actually has been around for thousands of years). Without fences, they needed a way to differentiate their livestock to keep it from getting stolen. So, they started branding with hot irons. (ouch) To "brand" means "burn".
Eventually, that brand began to signify the quality of the herd, the honor of the rancher, and even the quality of the Cowboys (we are back in Texas now) he hired. Even now, here in Texas and other areas, cattle are branded under the sign of the ranch brand and consumers will buy their meat or livestock from reputable brands.
Over time that concept evolved to include symbols and logos businesses used to differentiate themselves from competitors. It includes the overall image, the promise of quality, the personality, values, and customer experience that people associate with the brand.
Differentiation
I want you to notice how many times I mention "differentiate" throughout this blog. Differentiating means what it sounds like… you make yourself stand out by being different, memorable, exciting, the host with the most… Everything you'll read here is advice on how to differentiate.
Brand Promise
One of the most important parts of differentiating yourself is to create a brand promise.
At some point, you have made decisions about the promises you make to your guests and employees. The brand promise is a statement that communicates what customers can expect from you, your commitment to quality, service, guest experience, amenities, and hospitality.
Cat, from Galveston Caszatt Condos, has a brand promise that her condos are clean and competitively priced options along the Seawall on Galveston, Island, Texas. She is excited to share the island with guests. She cares about her guest experience and enjoys providing excellent hospitality.
I've seen her, time and time again, keep her brand promise by discounted dates during construction on the condo complex, and even when there is beach work. Even though neither of those issues is her fault, she also knows it can interrupt her guest's stay. So she tells her guests in advance that it may be an issue, allows them to cancel with no fees, and provides a discount for their inconvenience if they choose to stay.
That's a hell of an example of creating a guest-first brand promise! I LOVE IT! And I love Cat!
Now, think about the promises you make and write that statement down. Once you have thought about it, changed it up a bit, and perfected it, add it to your website, share it on social media and in ads, emails and in personal conversations. Tell your employees and show them examples of how you provide this promise. Write it on a bulletin board in your office and hold it tight.
Mission Statement
Your mission statement is the reason you have your business. Who do you serve and why? This is much more than "saving for retirement". If you do not have a mission statement, ask yourself these questions to help yourself write one that's true to your business:
What do you offer?
Why do you offer it?
To whom do you offer it?
What are your business goals?
What are the values for your business?
Why would these values matter to your guests?
Your mission statement should be short and sweet, but authentic. One to two sentences are usually long enough.
Happy in the Keys's Mission is: "To provide the very best vacation rental homes in the Florida Keys for the guests who choose our properties for their much deserved and earned vacations.
Brand Personality
Your brand's personality is what can help set you apart from your competition by creating an emotional connection between your brand and your guest avatar. It's what makes them like you, trust you, and feel comfortable with you.
Your brand personality can turn off potential guests as well as make others feel more comfortable with you, so it is super important to understand what kind of person you are marketing to. But, ultimately, your brand personality should be part of your own personality.
Some ideas for brand personality include warmth, excitement, sophistication, fun, and humor. My brand personality includes straight shooter, funny, fun, creative, excited, and easygoing.
Start thinking of your own personality and how you can incorporate elements of it into your brand. Are you funny? Reserved? Shy? Serious? Silly? Sophisticated? Think about brands you love and how they incorporate personality into their messaging and logo.
Keep up with all the elements of your brand personality in a guide, and know that it takes time to discover the personality that truly resonates.
Brand Values
Brand values are closely related to your brand promise and personality and can be a huge part of your brand story.
Brand values are one of my favorite aspects of creating a brand identity because your values as a person and a brand go back to your core beliefs, and it is so easy to create messaging around them. Brand values are the principles that guide your actions as a business.
Do you value environmental sustainability? Use environmentally friendly cleaning products, use energy-efficient lighting and appliances, give part of your profits to environmental causes, and educate your guests on your mission! Not only will they appreciate your efforts, but your message will create a connection for guests who are looking for these features (and many, many people are!)
Other values I've helped my clients define in their brand include safety, families, connection, rejuvenation, nature, privacy, luxury, quality, integrity, social responsibility, diversity, and community. Although it can be prudent to stay away from politics, you may want to make a political or social statement through your definition of your values.
Think about why YOU make your own choices when buying products and services. How do your values affect your decision? Write down your values and like your brand promise, keep massaging it till it feels right, then add it to the about page of your website and start using it in marketing.
You can read my values on my about page.
Marketing your values, in my opinion, is one of the most natural ways to market your vacation rental. If you value the environment, share videos from the beach cleanup day or write a Facebook post/blog about the ten environmentally friendly cleaning products you use. If you value your local community, share a photo of your sponsorship sign at the local baseball park, community theater, or non-profit organization.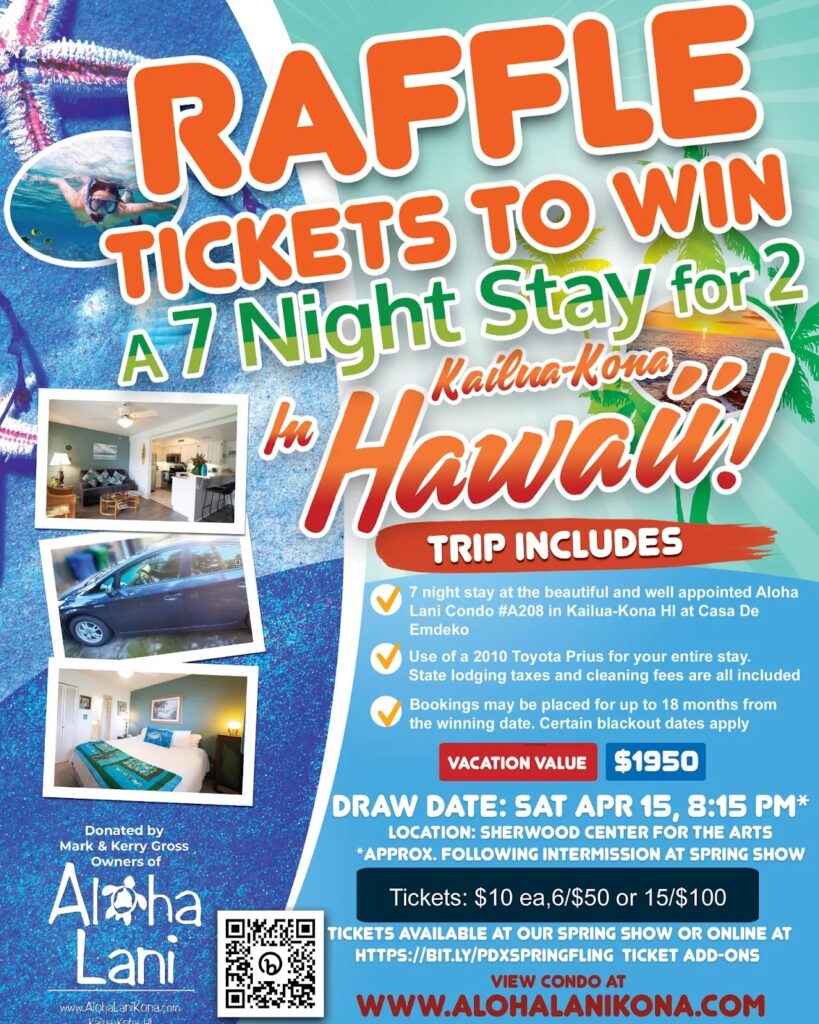 Mark Gross and his wife Kerry own Aloha Lani, a condo in Kailua-Kona, Hawaii. They value community and are active in their Portland, Oregon music arts scene. Because these are important personal values, they continue through their business values. Recently, they donated a one-week stay in their condo, plus their personal vehicle, for a charity fundraiser. Their branding and information is the "big ticket" item for this fundraiser so their photos and details are everywhere. Sharing the photo on their business and personal social media and in emails to guests will build their brand reputation – with previous guests, potential guests and their local community. Sure, they lost a week's income. But look what they have gained!
Brand Story
Marketing your business is as much about selling your property as it is about building connections with prospective guests. Why should they trust you to provide a great experience? What makes you as unforgettable? Your Brand Story is one of the factors that can set you apart in the memory of your current and future guests, prospective guests, and other interested parties who could be ambassadors.
One of my previous clients with properties on 30A in Florida owned a condo with her husband on 30A when she suddenly lost him. It was a special place, full of memories and she wanted to make sure her children were still able to enjoy it, but she couldn't afford to keep it. When a friend suggested she rent it out, she was hesitant. But, ten years later, she now owns and manages three additional properties! Her story of persevering after a loss, wanting to hold onto memories of her husband, and building a business after years of being a stay-at-home mom is inspiring to so many!
Ask yourself these questions to help create an authentic story that will create a connection with your audience. Use this story on your website's "About Page" and share it in social media. If it feels too personal, you can pull back from those details until you are more comfortable sharing, but there are probably a ton of reasons your story is important to your business.
Why did you decide to start a hospitality business?
Does your Vacation Rental business fulfill a need in the area? (Such as you saw a need for larger homes, you wanted to provide a luxury experience, you wanted to give guests a place where they could participate in something special?)
Where is your rental? Why did you choose that location? Is it special to you in some way? (You grew up visiting this beach or took your kids there?)
How do you serve your guests and why are they important to you?
What is important for your guests to experience as part of their stay that is important to your story?
Elevator Pitch
Pretend you are in an elevator riding up 15 floors and someone asks, "What do you do?" You now have 30-45 seconds to explain what you do and for who. When done right, your elevator pitch will be a brief summary of your business and how it can bring value to your listener. Write your elevator pitch and practice it until you can say it quickly and confidently.
A simple recipe for an elevator pitch is ……. What | Where | Why
Martie, from Happy In The Keys, could state: "We own custom, luxury vacation homes in the Florida Keys with waterfront access, private docks, and boat slips, perfect for families, and groups of friends to relax, fish, boat and enjoy the keys lifestyle."
Sherri, from Twisted Horns Ridge, could state: "We provide a secluded haven on a 75-acre ranch in the Texas Hill Country. Our adults-only property has seven, private tiny homes, giving couples a secluded, romantic place to reconnect with each other, experience the sights and sounds of nature and our animals and truly relax"
Brand Identity – The Visuals
It's a lot of fun to choose the logo and colors to represent your brand. So much fun that it's typically one of the first things any business owner who is new to the business will do – which is one reason that so many brands have to throw it all in the trash and start over.
Professional branding agencies will work through the steps I've outlined above before they even think about logos, fonts, and colors. If you are just getting started, you might want to think about these things before you choose your business name or property name.
And, if you have a logo and brand identity now and you are worried it doesn't truly represent you, know that logos and color schemes change all the time. Branding experts say you should re-work your logo every few years to keep it fresh and modern.
Brand Logo
I cannot stress enough how important it is to use a professional designer to create a unique and memorable logo that truly represents your brand and target market. What you don't want is the same clip art style logo with a house, a mountain scene, or palm trees and a sun. Sure it can be cute and fun, but does it stand out? Does it really say who you are? Are people going to see it on a business card or postcard a year from now and associate it with their vacation rental from a year earlier?
A professional graphic designer will help create a color and font style – your brand identity – as well as the various formats you need for a logo including your main logo, a secondary logo for your website, and a submark logo which can be used as a favicon (the little icon on your web browser tab)
If at all possible find an affordable branding agency that specializes in the tourism industry. If you'd like help creating your brand messaging, reach out to me for professional help creating your brand message and then I can work with you and a graphic design agency to help with brand identity.
If you cannot afford a branding agency right now and feel that a logo is a must-have, you should decide on fonts and colors before creating something yourself or hiring someone from Fivrr or another inexpensive logo design agency like 99 Designs or Netmen
Brand Colors
All colors have psychological and cultural connotations. You need to choose a color palette that appeals to your target market (guest avatars), and that also represents the guest experience you provide. Before choosing colors you like, think about your brand personality, the experience, and your destination. White and soft colors can represent weddings and romance, blue is peaceful, and turquoise can be beachy or southwestern. Darker shades of blue and navy with gold can look more luxurious, while baby blue or brighter blues can be more nautical, especially when paired with red.
Use A Mood Board To Create A Vacation Rental Brand Color Scheme
Creating a mood board is FUN! You can use a digital tool such as Canva or Pinterest, or a host of other tools. Add graphics to the mood board that represents the look and feel you want to present. Use photos of your own properties, and find photos on stock photo sites or Instagram.
Use these sites for inspiration and help:
Coolors.Co – A fun site for graphic designers and web developers, but works for anyone looking at colors.
Canva's Color Palettes – I use Canva for everything and especially for helping me choose colors for web design or branding projects. Check it out!
Pinterest – Pinterest is a great site for researching color combinations. Create a secret Pinterest board and save images that represent the mood you want to feel. Search for pins about brand colors, visual style, etc.
Fonts can also be fun to choose, but just like colors, they can give subtle hints to your website viewers and others who see your branding. If you use Canva, they usually have some great font pairing suggestions.
Branded Vacation Rental Website
As a website designer, I see unbranded websites, or websites with just a logo in the header, all the time!
I truly believe the guest experience begins with your future guest's first interaction with you – and often that is your website! So it should stand out and be memorable, both with design and copy.
A beautiful, modern, well-designed website will show your website's visitors what they can expect from your brand. Using visuals, professional gallery photos, and stand-out calls to action can truly show off your properties and guest experience, create more trust, and give a very memorable first impression.
With professional copywriting, your "About page", Home Page, and listing pages will SHINE and tell your website visitors why you are different and why they should book with you!
If you need some advice, learn more about my web design services and schedule a free call to review your current website!
Final Thoughts
Building a brand for your vacation rental business that captures your target market is an essential part of your overall marketing strategy. Whether you already have a brand and logo or you are just getting started, following these tips will help you build a brand that will attract guests who are seeking the experience you are offering from your vacation rental property.
Want more book direct vacation rental marketing, branding, and business tips? Download the FREE 5-Step Guide To A Book Direct Vacation Rental Business and start building a professional, branded, independent, guest-first vacation rental business that truly wows your guests!